Overview
Your eyes won't believe what your ears are hearing! The EHX KEY9 completely transforms your playing sound into a range of other instruments.
New Worlds of Music
Transform Your Sound
The Electro-Harmonix Key9 Electric Piano Machine makes it so that by just playing the guitar you can produce that sounds of a range of different instruments. The KEY9 also works great with keyboards too.
Mostly focusing on electric piano sounds, the Key 9 Electric Piano Machine delivers extremely high quality effects to completely transform the sound of your playing.
Each of the prese instruments have modulation that can be manually adjusted via the built-in control dials to give you further manipulation over your sound.
Nine Preset "Instruments"
The Key9 doesn't use sample triggering; it lays the sound of the effect on your guitar or keyboard playing so the sound is exactly what you're playing and how you want it to be, yet somehow it reproduces the sounds of some classic instruments that are far from what guitars sound like.
The instruments found in the Electro-Harmonix Key-9 pedal are as follows:
DYNAMO – Inspired by the "Dyno My", modified Fender Rhodes electric piano of the 70s and 80s. the CTRL 1 dial allows you to add bass to the lower strings of your guitar while CTRL 2 allows you to adjust th "tine", or high-end overtones.
WURLI – This option brings you the sound of the classic Wurlitzer electric piano. CTRL 1 adjusts tremolo depth while CTRL 2 controls the tremolo speed.
SUITCASE – This setting emulates the sound of a Fender Rhodes being routed through a phase shifter. CTRL 1 adds a bass octave and adjusts the tine. CTRL 2 adjusts the phase shifter speed.
MALLETS – This one brings the sound of a wooden marimba to your playing. CTRL 1 adjusts chorus depth while CTRL 2 adjusts chorus speed.
EIGHTY EIGHT – This preset emulates the Fender Rhodes 88 electric piano with built-in tremolo. CTRL 1 adjusts the tremolo depth and CTRL 2 adjusts the tremolo speed.
TRI-GLORIOUS – This effect brings you the sound of a "Dytronics/Dyno My CS-5 Tri Stereo Chorus with CTRL 1 adjusting chorus depth and CTRL 2 setting chorus speed.
VIBES – The gives you the sound of a metal vibraphone with motorised tremolo. CTRL 1 sets the high pitch attack while CTRL 2 allows you to adjust the tremolo speed.
ORGAN – This is a highly touch-responsive percussive organ sound. CTRL 1 adjusts the treble while CTRL 2 sets the rotating speaker speed.
STEEL DRUMS – This preset gives you the metallic sound of a steel drum. CTRL 1 allows you to adjust chorus depth and CTRL 2 sets the chorus speed.
Awesome Applications
From lush 70s funk and spacey prog rock to soulful blues and epic metal. The EHX KEY9 Electric Piano Machine just opens your guitar up to new worlds of sonic adventures.
You'll find it as inspiring as it is fun to play with.
Allowing you to seriously broaden your band or solo performance's styling, the KEY9 is one of the most innovating, fun and interesting effects pedals available for your instrument.
Electro-Harmonix KEY9 Electric Piano Machine Features:
Transforms the tone of your guitar and/or keyboard
Includes Electro-Harmonix 9.6DC 200BI power supply
Gives you 9 different, high quality sounds ranging from classic key instruments and organs to steel drums
Each of the 9 preset instruments have two manually adjustable settings such as tremolo, phaser and chorus
Works great with the B9 and C9 Organ Machines allowing you to create your own powerful keyboard rig
Specification
| | |
| --- | --- |
| SKU | 144347 |
| Weight (kg) | 2.1000 |
| MPN | KEY9 |
Video Gallery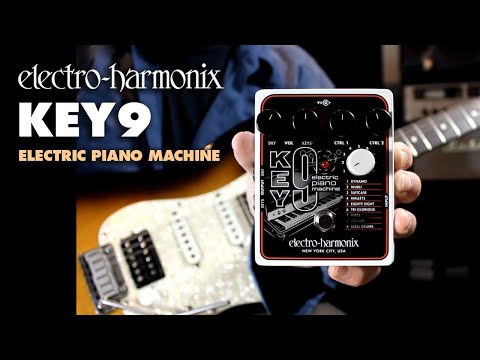 No music has been added for this product yet.
Frequently Bought Together
Price Match
We constantly monitor our competitors' prices to ensure that we're the best. However if you do find it cheaper, you can request an instant price match during opening hours by completing the form below.
*Please note that Terms & Conditions apply to Price Match - Must be a UK-based seller with the item In Stock, and is not available in conjunction with Finance or other Offers*