Overview
The Green Russian Big Muff is back by popular demand, returning in all its fuzzy glory with its signature distortion and sustain capabilities.
Return of The Green Russian Big Muff
Back in the 1990s, the original Russian Sovtek Big Muff hit the market. In its distinctive military green, it really stood out visually but its dark, bass-filled sound is what really set the original Russian Big Muff apart from the competition.
Highly collectible and particularly hard to find, the Russian Sovtek Big Muff goes for high prices on the secondary market and it's safe to say that it has reached legendary status.
Now, Electro-Harmonix are treating us to the Green Russian Big Muff's triumphant return, bringing us the great, thick sound of the original but in smaller, more pedal board friendly package.
Faithful Reissue
Revered by bassists and guitarists alike, if the Russian Big Muff fuzz pedal was to make a return, it had to be done properly and so Electro-Harmonix have gone all out to ensure you get a truly authentic reissue of the legendary Green Russian Big Muff Pi.
The original sound that made the Russian Muff pedal such a hit and favoured by Dan Auerbach of The Black Keys among many other great musicians has been painstakingly recreated to give you that distinctive Russian Muff experience without having to trawl through to the secondary market and pay over the odds.
Of course, another great aspect of the Russian Sovtek Big Muff that really upped the "cool factor" was its military green metal chassis and so, with this new reissue of the
Electro-Harmonix Green Russian Big Muff it has that same, vintage-correct military green chassis.
Simple Controls and True Bypass
As with the original Russian big muff, Electro-Harmonix have kept things simple with the Green Russian Big Muff reissue with three knob control – volume, sustain and tone.
The sustain knob allows to you adjust the amount of sustain and distortion you have in your sound, taking you from some light fuzz to a full-on distorted beast.
Using the tone knob you can really sculpt your sonic attack, going from deep, rumbling bass to some sky-high treble. By turning the knob clockwise, you increase the treble while rolling off the bass and vice versa.
Furthermore, the Green Russian Big Muff Pi is true bypass to retain signal integrity with pure, uncoloured sound. Stomp down on the footswitch to activate the effect and the LED will light up to let you know it is on, stomp again and the light goes off, indicating that you are in true bypass mode.
Built Like a Soviet Tank
Just like the original Russian Big Muff, the reissue comes in an absolutely solid and secure metal chassis. It is seriously built like a tank and perfect for taking on tour as it'll withstand all the rigours of life on the road.
Built smaller than the original but retaining that original big muff sound, the incredibly thick fuzzy, distorted tone of the Russian Big Muff defies its new-found smaller home. Also, it can be powered by 9V battery or you can connect a 9VDC AC adapter s you've got a few options there for portability.
Get the original, incredible, legendary Russian Big Muff sound from a brand new, pedalboard-friendly pedal.
Green Russian Big Muff Fuzz Pedal Key Features:
Faithful Reissue of the Legendary Green Russian Big Muff from the mid-1990s
Revered by Both Guitarists and Bassists
Vintage-Correct Army Green Chassis
Controls for Tone, Sustain and Volume
Compact and Pedalboard Friendly
True Bypass for Maximum Signal Path Integrity in Bypass Mode
Sturdy and Rugged Metal Chassis
Specification
| | |
| --- | --- |
| SKU | 167907 |
| Weight (kg) | 2.0000 |
| Effects | fuzz |
| Power Supply | 9v dc (adapter or battery) |
| MPN | GREEN RUSSIAN |
| Warranty | 2 years |
Video Gallery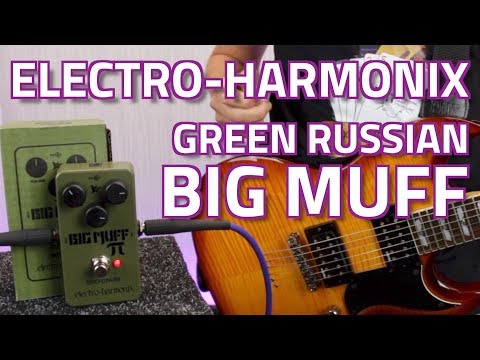 No music has been added for this product yet.
Frequently Bought Together
Price Match
We constantly monitor our competitors' prices to ensure that we're the best. However if you do find it cheaper, you can request an instant price match during opening hours by completing the form below.
*Please note that Terms & Conditions apply to Price Match - Must be a UK-based seller with the item In Stock, is not a Marketplace-based seller (like Amazon or Ebay), and is not available in conjunction with Finance or other Offers*. All Price Match transactions are at the discretion of PMT Online, and we reserve the right to withdraw the Price Match at any time.