Overview
V-MODA Crossfade 2 wireless headphones, seen here in an ultra-stylish Rose Gold finish provide incredible audio with an aesthetic to match. Exclusive to the Rose Gold edition in the Crossfade II headphones range is the use of the incredible Qualcomm aptX audio codec for unmatched wireless audio quality.
Hybrid Wired and Wireless Headphones with Qualcomm aptX Codec
When designing the Crossfade 2 wireless headphones, V-MODA wanted to create a product that delivered incredible audio quality with stylish good looks to match while allowing the user to enjoy the benefits of both wired and wireless headphones.
Get the Best of Both Worlds
A pair of Crossfade 2 headphones gives you all the freedom of a wireless headphones and all the benefits of wired headphones, whenever you need them.
While in wireless mode, the incredible battery life of the Crossfade 2 headphones offers up to over 14 hours of music, and when you want to you can plug in the cable to enjoy unlimited hours in the wired analogue mode.
Plugging the cable into the jack automatically switches to analogue mode, switching off all battery and electronics while allowing your Bluetooth headphones to provide you with zero latency performance; perfect for when you want to enjoy video, gaming or when you require it for DJ and live music performances.
With wired hi-res audio you can enjoy the pure audio; no powered EQ, artificial processing or colouring of the sound in any way.
Incredible Audio Quality
When in wired mode, you can enjoy certified Hi-Res audio. Crossfade 2 wireless cans support super-human frequencies beyond even 40kHz during playback of Hi-Res music sources as certified by the Japan Audio Society (JAS).
Incredibly lifelike vocals, crystal clear cymbals and the crispiest hi-hat sounds can be enjoyed with ultra hi-res dynamics, while the bass is clean and deep, allowing you to hear precise vibrations throughout your music without any undue boom or muddy midrange.
With an incredibly immersive 3D soundstage you get an experience like that of a true live performance, allowing you to hear the original artists' performances as they intended it to be heard.
V-MODA Crossfade vs Crossfade 2
Compared to the Generation I Crossfade wireless headphones, the V-MODA Crossfade II headphones feature improved drivers, more comfortable cusions and a larger battery.
So that's better audio quality, a more comfortable user experience and extended battery life!
Qualcomm aptX Audio Codec
Exclusive to the Rose Gold edition of the V-MODA Crossfade II headphones is the Qualcomm aptX audio codec.
Many people who appreciate high quality audio tend to avoid Bluetooth earphones as they believe it to be of a far lesser quality when compared wired headphones.
To meet the needs of those who require wireless earphones with fantastic audio quality, V-MODA utilised Qualcomm Chipset and aptX technology.
Developed at Queen's University Belfast, the Qualcomm aptX audio coding algorithm delivers near CD-quality sound over Bluetooth, ensuring the best quality wireless earphone listening experience possible.
Built to Last – Extreme Durability
Comfortable and durable vegan leather has been used to construct the virtually indestructible SteelFlex headband while a steel frame ensures a strong, secure and stable build.
In fact; the Crossfade 2 wireless headphones are so well constructed and durable that they meet military level MIL-STD-810G test standards.
To protect your wireless headphones from the elements, V-MODA have ensured that the Crossfade 2 headphones are resistant to both high and low temperatures, humidity, salt spray and UV exposure; proper protection from rough environments.
Furthermore; V-MODA are so confident in the durability of their wireless headphones that the Crossfade 2 wireless headphones come with their incredible six-star satisfaction service. This means that you get a 1-year V-MODA Premier Warranty and the V-MODA Immortal Life Program, which gets you 50% off a replacement of your wireless earphones for a lifetime.
Ultimate Portability
At first glance the included exoskeleton case will appear far too small to hold the Crossfade 2 wireless headphones, however, thanks the unique CliqFold hinge; a luxury lighter-like hinge mechanism, you can fold these Bluetooth headphones into a tiny, compact size with ease.
A special V-PORT design offers a great, new ventilation system which circulates air after you've used your headphones on stage or during a workout to keep them fresh and protected.
Organising your cables, such as the included SpeakEasy microphone cable and V-Micro USB cable, is extremely easy thanks to the V-STRAP design which even allows extra space for additional items such as a USB drive or earplugs.
An included carabiner clip attaches to a hoop on the side of the exoskeleton case so you can hook it to your belt or backpack for easy access and storage when you're on the move.
Premium Accessories
In addition to the extremely convenient and useful Exoskeleton carry case and carabiner clip you will find that to ensure you get the most out of your investment in the Crossfade 2 Bluetooth headphones, V-MODA have included a plethora of great accessories.
A reinforced 1-button SpeakEasy microphone cable allows for crystal clear communication. With its hidden mic and useful button, this cable allows for calls while on the go, use in the office or communication functions while gaming.
So that you can expand the number of devices you can connect to, V-MODA have included a gold plated ¼" pro adapter. A large amount of professional audio equipment relies on ¼" jack output for headphones so with this adapter you'll always be ready.
Lastly, a V-MODA designed, elegant USB cable is found in the package, great for charging your headphones in style.
Included with the V-MODA Crossfade 2 Wireless Headphones:
Exoskeleton Carry Case with V-PORT Vents
Carabiner Clip
Reinforced 1-Button SpeakEasy Microphone Cable
Elegant V-Micro USB Cable
Gold Plated ¼" Pro Adapter
V-MODA Sticker
Make Calls and Summon Your Voice Assistant
Compatible with iPhone and Android devices, an Assistant Summon feature means you can make use of Siri and OK Google for incredible access to the features of your device.
With a built-in, hidden wireless microphone you can make calls and get easy access to your device's voice assistant while discrete controls allow you to adjust the volume and other functions.
The included detachable SpeakEasy microphone cable is specially tuned for voice recognition meaning you can be heard clearly when making calls; even in noisy environments.
You can even further customise your set by purchasing optional add-ons such as the BoomPro which is great for gaming and Skype use, or three 3-button SpeakEasy mic and remote that has been designed for compatibility with all Apple products.
Premium Wireless Headphones
With an uncompromising and unique focus on audio quality, incredible visual impact and portability, V-MODA Crossfade 2 Wireless Headphones look and sound fantastic and are extremely convenient to take on your commute or even to the gym.
Order a pair of Crossfade 2 Wireless Headphones today and experience them for yourself.
V-MODA Crossfade 2 Wireless Headphones Key Features:
Hybrid Wired and Wireless Functionality
Incredible Audio Quality
Ultimate Portability
Extreme Durability
Great Warranty and Replacement Schemes Provided by V-MODA
V-MODA Crossfade 2 Wireless Headphones Specs:
Headphone Type – Over-Ear Circumaural Bluetooth
Drivers – 50mm Dual-Diaphragm (patent pending)
Frequency Response (Wired) – 5 – 40,000Hz
Headphone Sensitivity – 100Db @ 1kHz 1mW
Microphone Sensitivity - -42Db @1kHz
Impedance – 32 Ohms
Weight – 309g
Battery Capacity – 430mAh (up to 14+ hours music playback)
Cable – 1-Button Reinforced SpeakEasy Microphone 3.5mm Cable
Specification
| | |
| --- | --- |
| SKU | 165848 |
| Weight (kg) | 4.0000 |
| MPN | XFBT2-RGOLDB |
| Case Included | hard case |
| Cup Type | closed |
Video Gallery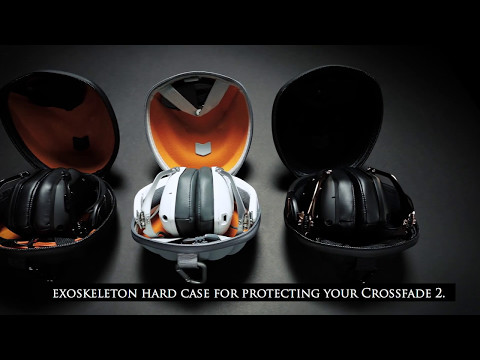 No music has been added for this product yet.
No posts have been written for this product yet.
Price Match
We constantly monitor our competitors' prices to ensure that we're the best. However if you do find it cheaper, you can request an instant price match during opening hours by completing the form below.
*Please note that Terms & Conditions apply to Price Match - Must be a UK-based seller with the item In Stock, is not a Marketplace-based seller (like Amazon or Ebay), and is not available in conjunction with Finance or other Offers*. All Price Match transactions are at the discretion of PMT Online, and we reserve the right to withdraw the Price Match at any time.