Overview
It's fair to say that the original Voicelive changed the way many musicians played, offering incredible features for enhancing your guitar or vocal sound, building huge looped arrangements and improvising in totally new ways. TC have only gone from strength to strength and the Voicelive 3 Extreme represents the next big leap in vocal processing, with even more power at your feet and an expanded feature set without compromising its ease of use.
When TC-Helicon introduced VoiceLive 3 at NAMM 2014, it heralded a revolution in processing for singers with the first combination of truly professional vocal and guitar FX in one box. With VoiceLive 3 Extreme, the bar is now set even higher!
Much more than a simple upgrade, VoiceLive 3 Extreme has 4 times the built-in memory for loops and adds backing-track storage. With groundbreaking FX automation features, all synchronized to the audio, VoiceLive 3 Extreme really can allow creative solo performers and singers to connect with their audiences like never before.
Add to that 24-bit stereo recording via a connected USB flash drive, along with import/export of loops and backing tracks via USB and VoiceLive 3 Extreme becomes THE one essential product for any solo performer or singers who want to take their performances to an even higher level.
Connect with your audience like never before. Groundbreaking FX automation and backing track playback sets you free to focus solely on your performance, while awe-inspiring vocal effects and rich guitar sounds run effortlessly by themselves. From the first song idea to the execution of complex live arrangements, everything you've worked for comes together in VoiceLive 3 Extreme.
NEW! Backing track import with FX automation for "tap-dance free" performances, synchronized to tracks
NEW! Performance recorder for live direct 24-bit audio, output to a USB flash drive
A complete vocal sound with next generation harmony processing, effects and tonal quality
A complete guitar sound via TC Electronic stomp box effects, Amp Tones and flexible output configurations to your amp or PA
Powerful 3-phrase looping lets you create and store entire songs on-the-fly
Practice Made Perfect
If VoiceLive products are the stepping-stone to studio perfection in live performance, VoiceLive 3 Extreme is the one completing the journey. It all starts in rehearsal with you loading up a backing track. Whether it's just drums, bass, or a full band mix-down, VoiceLive 3 Extreme lets you capture all your FX changes synced to your track; harmonies, delays, guitar FX, anything you can think of. You can even record speedy FX changes that would otherwise be physically impossible using the switches alone. It ends with you on stage. Simply pressing play on VoiceLive 3 Extreme and an amazing thing happens – your track plays back with all the FX changes you perfected at home, completely automated for your performance. You're free to connect with your audience and everyone around you. All that hard work you did before the gig – making your song sound just right – is heard every time you perform.
Up to 100 audio backing tracks can be loaded for live accompaniment via a standard USB drive
MP3 and 16/24-bit WAV import formats supported
Onboard sequencer records and plays back FX and Step activations live
Backing tracks/sequences load quickly via associated presets
Icon-based play/record/editing interface and waveform display
Extremely Inspired Production Quality
The inspiration that follows from carefully planning out your songs with backing tracks and FX sequencing is beautifully matched by the onboard audio recorder that allows you to capture everything you do in glorious 24-bit quality. Record every live performance, every home practice all with professional studio fidelity and effects – both vocal and guitar. Turn your tour into EP material or your late night jams into SoundCloud gold. It's all possible with just your talent, VoiceLive 3 Extreme and a USB flash drive.
Your Voice, Front and Center
With a mind-blowing vocal FX path featuring 11 independent effects blocks, over 180 different pre-programmed styles and more than 250 factory presets available right out of the box (and more available for free download), VoiceLive 3 Extreme represents the absolute pinnacle of singers technology and is the perfect partner for your voice.
Exciting and unique Harmony sounds: choose from NaturalPlay, Scale, Pedal, Fixed, MIDI Notes or Mixed-Mode for expanded voicing and musical possibilities
Authentic Vocoder, with voice-controlled Polyphonic Synth and Robot modes, allows you to play your voice like an instrument
Automatically and professionally produced vocal sound with enhanced Adaptive Tone™
Improved suite of our renowned vocal effects including Doubling, Harmony, Echo, Reverb, HardTune, Flanger, Synth, Chopper, Choir and more
250+ factory presets, with onboard storage for 500 presets in total. Download and manage more presets via our free VoiceSupport app
Specification
| | |
| --- | --- |
| SKU | 134968 |
| Weight | 4.0000 |
| MPN | TC131 |
Video Gallery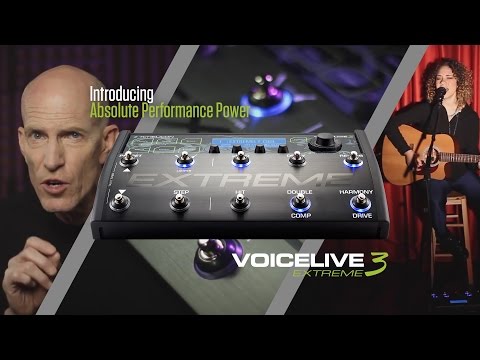 No music has been added for this product yet.
No posts have been written for this product yet.
Price Match
We constantly monitor our competitors' prices to ensure that we're the best. However if you do find it cheaper, you can request an instant price match during opening hours by completing the form below.
*Please note that Terms & Conditions apply to Price Match - Must be a UK-based seller with the item In Stock, and is not available in conjunction with Finance or other Offers*