Overview
One look at a Sterling and it's clear this is a bass of distinction, sleek, powerful and made in the image of it's big brother. One big bridge humbucker delivers the grit and presence that have made these basses popular with so many top bassists.
S.U.B. Series Bass Boast Great Tone Shaping Features.
The tone is shaped by the onboard active 2 band preamp. Controls for volume, bass and treble offer maximum flexibility in finding your sound. Full cut & boost of bass & treble frequencies. The wide range of tones, guarantee you will find your sound, for any musical situation.
Quality Construction
We want your bass to last a lifetime. Superior design and construction are key to delivering a solid instrument that will accompany you on your long musical journey. All S.U.B. basses employ a superior 6 bolt neck joint. The 6 bolt neck joint, designed by Music Man, offers strength, stability and great tone transfer. The neck stays in position and won't shift under heavy load. The neck heel allows easy access to the higher end of the fingerboard and is unobtrusive. Allowing your hands to freely move about the neck with ease. Rest assured, your neck will stay put while your fingers roam about.
High Output Humbucking Pickup
The high output humbucking pickup was designed for clarity and true reproduction of the basses natural tone, with minimal coloration. 2 rows of large magnetic pole pieces pump the strings information into the pickup, feeding the 2 band active preamp. Tones can be aggressive, wild or mild. Its up to you to find your sound. 3 screw adjustment allow for more accurate positioning of the pickups angle & height, allowing for more precise adjustments to match the strings angle.
Satin Finished Neck
The feel of the neck is everything. Your fretting hand is touching the neck 100% of the time you play your bass. We developed a super smooth satin finish for the back of the neck. This finish is non glossy, never get's sticky and always feels fresh. The tinted satin finish looks great and gives the instrument a classic look and feel.
Neck Adjustments
All stringed instruments need some basic adjustments from time to time. Neck adjustments can be intimidating for some. S.U.B. makes it easy and simple. S.U.B. Series guitars & basses have an easy to adjust neck. No specialized tools are needed. The small thumbwheel located at the end of the fingerboard makes it easy and simple. You can use a small screwdriver or the included chrome bar to easily and quickly adjust the neck to your preference. No need to remove the neck or strings, you can make the adjustments on the fly. Easy, quick, convenient. More time to play, less time for adjustments.
Top Mounted Output Jack
No more fumbling trying plug in the cable. The output jack is conveniently placed on top of the body. Located on the control plate, the jack is secure and won't easily pull out or get damaged when placed in a guitar stand. We use a heavy duty jack that is designed to withstand plenty of use and abuse.
Battery
The 2 band active preamp is powered by a 9 volt battery. The easy to open battery compartment makes battery changes easy and simple. Simply flip up the battery door, unclip the 9 volt from the clip and clip in your new battery. Takes no time at all. The battery is easily accessible on the back of the body. Your battery should last for several months under normal use. We recommend you unplug the cable when not in use, to conserve on the batteries life span.
Specification
| | |
| --- | --- |
| SKU | 124334 |
| Weight (kg) | 6.0000 |
| MPN | RAY5-BK/M |
| Colour | black |
| Warranty | 2 years |
| Number Of Strings | 5 string |
| Body Size | full size |
| Right / Left-Handed | right handed |
Video Gallery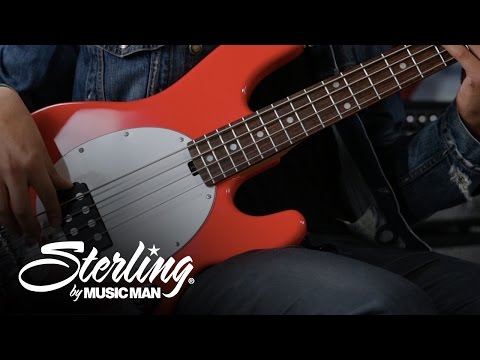 No music has been added for this product yet.
No posts have been written for this product yet.
Customer Reviews
Amazing for its kind
My first surprise was the box's weight. I had to tell myself that weight means quality. I bought it right before going to my musicians' workshop. One bassman was playing outside when I got there, so I plugged him in. I was ready for it to sound like a small radio. Wrong. Think hi-fi with bassy speakers. We were all taken aback at how good it is, and loud, far louder than acoustic guitars. You can feel the air moving if you put your hand near the speakers. And then I plugged in the other speaker. Fuller and bassier. I'd be happy to record off it with it miked and to busk with it as long as it isn't up against guitar through a Cube. As for the line in, my portable DVD player has to be turned down to 1 to make it background level and I'm still wary of my neighbour sleeping off her nightshift; it's louder than the player on full by itself.
Price Match
We constantly monitor our competitors' prices to ensure that we're the best. However if you do find it cheaper, you can request an instant price match during opening hours by completing the form below.
*Please note that Terms & Conditions apply to Price Match - Must be a UK-based seller with the item In Stock, is not a Marketplace-based seller (like Amazon or Ebay), and is not available in conjunction with Finance or other Offers*. All Price Match transactions are at the discretion of PMT Online, and we reserve the right to withdraw the Price Match at any time.