Overview
The Mapex Mars Rock 5-Piece Nightwood Shell Pack comes complete with the Mapex Mars HP6005EB Hardware set to ensure you have the main components you need to build your ideal setup. Featuring all birch shells, shallow tom depths and SONIClear bearing edges for big tone, great projection and a quick responsive feel.
Mapex Mars Rock Shell Pack with Hardware
Offering a cost-effective and convenient way to change your drum kit set up in one go, the Mapex Mars Rock not only includes a 5-piece shell pack but also comes with a 5-piece hardware set too!
Simply add cymbals and you're good to go!
Featuring 100% birch shells, this Mars Rock drum kit delivers superb full bottom end tone and great high frequencies for a well-balanced sound.
The shallow tom depths ensure a super quick sound, with a fast attacking tone ideal for modern music styles.
Add to that the stylish Nightwood finish and black plated shell hardware and you have a kit that not only sounds awesome but looks amazing too.
Mapex Mars Rock 5-Piece Nightwood Shell Pack Configuration:
22 x 18" Bass Drum
10" x 7" Rack Tom
12 x 8" Rack Tom
16 x 14" Floor Tom
14 x 6.5" Matching Snare Drum
Mapex Mars HP6005EB Black Plated Hardware Pack Includes:
2 x B600EB Boom Cymbal Stands
1 x H600EB Hi-Hat Stand
1 x S600EB Snare Stand
1 x P600EB Single Bass Drum Pedal
Birch Build
The shells of this Mapex Mars kit are constructed from 6 plies of birch to deliver a shell thickness of 7.2mm for a good balance of durability and resonance.
Birch is characterised within drum building by its boosted high end, reduced midrange and brilliant low-end frequency response for an overall loud and cutting tone.
From the clear-cutting tone of the rack toms to the low thudding power of the floor toms and the deep bass punch of the kick drum, the Mars Rock kit delivers a brilliantly full sound to ensure you have the tone you need no matter the style you play.
Shallow Shells
The Mapex Mars Rock kit features smaller shell depths to offer a more controlled compact tone with a fast, attacking response.
The shallower tom depths help the drums to respond quicker to deliver an immediate burst of clear tone and a fast rebound playing feel.
Having smaller drum depths in the toms means that they have a slightly reduced sustain which serves to create a pronounced kit with brilliantly precise tone for a clean, controlled overall sound.
The result is power and projection. The Mapex Mars Rock drum kit delivers superb projection combined with robust tone for a sharp, cutting responsive sound with substance.
Versatile 5-Piece
The sizes and set up of this 5-piece Mapex kit serve to provide a setup that is able to cover a wide range of playing styles.
From rock and pop to jazz and funk this drum kit configuration offers a blend of power and versatility to ensure you have an adaptable set up that will slot seamlessly into any musical situation.
Whether you need the full 5-piece set up for rock gigs or want a smaller kit for jazz, this drumkit configuration can be easily adapted into a 1 up 1 down set up for a more compact playing option.
Plus, the shallower shell depths allow for a smaller pack down size making this kit extremely portable and therefore ideal for the gigging or recording drummer who needs to move their kit around.
The matching 14" x 6.5" snare drum rounds off the shell pack perfectly to add a snappy responsive snare tone that works brilliantly across the tuning range.
Crank it up for a direct cutting tone or tune it low for a big, fat backbeat.
If you're looking for versatile kit that will work brilliantly in a wide range of musical settings, this portable Mapex Mars Rock Kit is a great option.
SONIClear Bearing Edges
The Mapex Mars Rock is finished with Mapex's proprietary SONIClear Bearing Edges.
This bearing edge design has been created by Mapex to improve the overall tone and tuning range of their drums.
The flatter design of the SONIClear bearing edge works to allow the drumhead to sit flatter on the drum for improved contact between the shell and the head.
This benefits the drum in a couple of ways. Firstly, it helps to deliver a stronger, deeper fundamental pitch for a more pronounced sound and secondly it significantly expands the tuning range of the drums and provides easier tuning that remains in place longer.
Ultimately what this means is better sounding drums that have a bigger tuning range, that are much quicker to tune and that stay in tune longer, so you can spend far less time tuning and much more time drumming. Winner!
Mapex Mounts
The rack toms of the Mapex Mars Rock shell pack come complete with the SONIClear Tom Suspension Mount for easy placement and secure positioning of the rack toms over the bass drum.
The tom suspension mount has been specifically designed to avoid having to drill into the tom shells, which can negatively impact their tone.
Instead the mount works with the drums, instead of against them, to deliver increased overall resonance and stable tom placement without interfering with shell vibration.
The mount also distributes weight to keep stress away from the tension rods which helps the heads to stay in tune.
The floor toms also feature SONIClear floor tom feet, again designed to aid shell resonance by reducing vibration transfer from the floor to the tom.
Dark as Night
The Mars Rock shell pack is finished in a stunning jet black Nightwood finish for a professionally striking aesthetic.
Featuring a natural grained look, the dark Nightwood finish is accentuated perfectly by the black plated shell hardware, black Mapex badges and black low contact bass drum claws.
The all black Mapex 600 hardware also perfectly complements the dark shells to deliver an impressive overall appearance.
Offering robust tone and a professional aesthetic, this is a kit that will ensure you not only sound great but look great too.
Mapex Mars Hardware
Not only do you get a stunning sound and classy looking drum kit, Mapex have also thrown in the hardware too!
Featuring a 5-piece hardware pack the Mapex Mars Crossover comes with the essential hardware you need for a complete kit setup.
The Mars HP6005EB hardware set consists of two boom stands, a hi-hat stand, snare stand and single bass drum pedal.
All the stands are double braced to ensure a stable and sturdy set up and the snare stand features an omni-ball adjuster for quick and easy snare placement to ensure you achieve your most comfortable playing position.
Offering super stability, you can rely on the Mapex Mars 600 hardware to stay solid from the studio to the stage.
In addition to its reliable durability, this hardware is also extremely lightweight making it ideal for younger players and for gigging drummers.
The two boom cymbal stands offer brilliant flexibility to ensure you're able to set your cymbals exactly where you need them and they also pack down to a compact size for easy transportation.
The chain-driven single bass drum pedal and the hi-hat stand both deliver a smooth, responsive playing feel for a brilliantly comfortable setup.
All the hardware has a professional black plated finish providing a classy look that perfectly complements the Nightwood kit finish to deliver a striking overall aesthetic.
The perfect companion to the Mars Rock kit, the Mars HP6005EB hardware pack offers great functionality, lightweight portability and durable stability.
Just add a stool and you're ready to rock!
Summary
Offering great value for money in one convenient package, the Mapex Mars Rock Drum kit with HP6005EB hardware is a brilliant choice for intermediate drummer looking to upgrade their starter kit.
Delivering versatile tone this 5-piece Mapex kit is perfect for a wide range of musical styles.
Whether you play rock or hip-hop, pop or dub step, this Mapex drum kit has the tone to match various genres.
The all birch shells offer superb top end projection and full, low end warmth for a great all-purpose sound.
The smaller shell sizes ensure a compact, super punchy, quick tone, while the 2 up 1 down configuration offers versatility allowing you to create the set up you need based on your requirements.
Meanwhile the SONIClear bearing edges ensure better shell resonance and increased tuning longevity to ensure a consistent sound from your first tap to your last hit.
Add to that the superb functionality and lightweight portability of the hardware and the Mapex Mars Rock Shell Pack with 600 series hardware is a difficult deal to ignore.
Finished in a stunning Nightwood black colour this kit delivers not just on sound but in looks too. Providing a classy, professional aesthetic this kit will make sure you don't just grab ears but that you turn heads too.
For luscious looks, superb sound and highly functional hardware buy the Mapex Mars Rock Shell with HP6005EB Hardware today from PMT Online!
Mapex Mars Rock 5-Piece Nightwood Shell Pack Key Features:
5 Piece Kit – 22x18", 10x7" and 12x8" rack toms, 16x14" floor tom and 14" x 6.5" snare
100% Birch
6ply 7.2mm Shells
SONIClear Bearing Edges
SONIClear Tom Suspension and Floor Tom Feet
Low-Contact Bass Drum Claws
Nightwood Finish
Matching Snare Drum
Black Plated Hardware
Deep, Balanced and Responsive
Mapex Mars HP6005EB Hardware Key Features:
5 Piece Set - 2 x Boom Cymbal Stands, Hi-Hat Stand, Snare Stand, Single Pedal
Double Braced Stands
Durable and Stable
Lightweight and Portable
Omni-Ball Snare Adjuster
Black Plated Finish
Specification
| | |
| --- | --- |
| SKU | 117569 |
| Weight (kg) | 53.0000 |
| MPN | MA529SFBZW-PK |
| Colour | black |
| Warranty | 2 years |
| Hardware / Cymbals | cymbals not included |
| Finish | nightwood |
| Bass Drum Size | 22" x 18" |
| Floor Tom Size | 16" x 14" |
| Rack Tom Size | 10 x 7", 12 x 8" |
| Shell Count | 5 piece kit |
| Shell Material | birch |
| Snare Size | 14" x 6.5" |
Video Gallery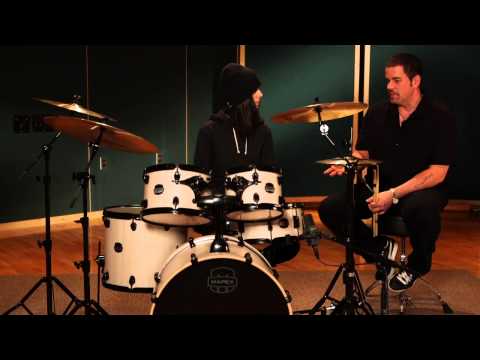 No music has been added for this product yet.
No posts have been written for this product yet.
Price Match
We constantly monitor our competitors' prices to ensure that we're the best. However if you do find it cheaper, you can request an instant price match during opening hours by completing the form below.
*Please note that Terms & Conditions apply to Price Match - Must be a UK-based seller with the item In Stock, is not a Marketplace-based seller (like Amazon or Ebay), and is not available in conjunction with Finance or other Offers*. All Price Match transactions are at the discretion of PMT Online, and we reserve the right to withdraw the Price Match at any time.