Overview
Transform your bass into one of 11 superb-sounding synths, thanks to the new Electro Harmonix Bass Mono Synth pedal! With it's choice of sounds ranging from vintage synth emulation, to thick, stacked voices and much more besides, the Electro Harmonix Bass Mono Synth allows for fully expressive playing, and it won't cost you a fortune either.
Electro Harmonix Bass Mono Synth Highlights
Features eleven great sounding, mono synth sounds
Easy to use controls let you dial in the sound you want quickly
EXP pedal input for real-time expressive control with your foot
Create, save and recall eleven user presets, one for each of the eleven synth sounds
Affordable and Easy to Use Bass Mono Synth Stompbox
This fun little stompbox allows you to dial in your ideal synth sound with ease, and even allows you to to save and recall presets for each of the eleven built-in synth sounds.
Intuitive Control Layout
Thanks to the straightforward control parameters, fine-tuning each of the preset types couldn't be easier.
Mixed Signals
First of all, you get Volume controls for both the Dry and Synth signals, which allows you to choose just how much of each signal is present at the Synth Output.
If you'd like the signal to be all-synth with no clean bass, then have Dry set to 0 and adjust Synth accordingly.
Don't be confused by the Dry output socket - this isn't affected by the Dry volume control and is simply there to send a buffered, unaltered Dry signal through to either a second amp, or a mixing desk.
Dynamic Response
Secondly, you have the Sens control (aka Sensitivity) which adjusts the input signal's gain before it gets to the Synth trigger block. This allows you to adjust the Bass Mono Synth based on how dynamic your playing is.
The on-board LED lights orannge when the input signal exceeds -4.6dB, and can be used as an indicator for where your Sens control should be set.
If the LED lights up only on your loudest playing, then all should be fine, but if it happens when you're playing quietly you might wish to lower the sensitivity. And likewise, if some of your notes fail to trigger the synth effect and you want them to, simply increase the Sens control until they do.
11 Synth Types
As you can see from the preset dial on the pedal, there are 11 different synth voicings to choose from, with the Ctrl knob adjusting a parameter of each. These can be summarised in the following way:
Laser - a deep and pulsating synth, with attack and decay adjusted via Ctrl
X-Fade - multi VCO synth with some Dry signal mixed into the filtersweep, whilst Ctrl adjusts the filter envelope's decay time
Acid - a TB-303-like fast decaying synth, with Ctrl adjusting both filter resonance and sweep depth of the envelope
Cosmic - bright and aggressive with subtle pitch mod effect, with Ctrl adjusting the decay time of the envelope
Sub - fat-sounding sub-octave synth, with Ctrl adjusting the volume of the Sub oscillator
Growl - percussive and punchy, with Ctrl setting the filter envelope's decay time
Wub - a wubtastic pulsing synth with a modulating filter, and Ctrl sets the modulation speed
Unison - stacks synth voices for a huge polyphonic sound, with Ctrl setting the filter envelope's decay time
Twin - a doubled-up throaty synth, with filter-sweep width adjusted via Sens and Attack/Decay times set with Ctrl
Spectre - a multi Voltage Controlled Oscillator synth with an added adjustable pitched note, filter-sweep width is adjustable via sens, and Ctrl adjusts the filter's cutoff frequency
Oblivion - a huge, rich, and warm synth with a warbling modulation effect, the rate of which is set via Ctrl
Save Your Presets
Thanks to the Preset footswitch you can toggle between the voice's Preset and a live WYSIWYG (What You See Is What You Get) mode. Once you've got the parameters set up as you want them simply press and hold the Preset switch for approximately 2 seconds, until the LED blinks red, and then release.
To recall the preset, assuming you're in Live WYSIWYG mode and the LED is green, simply change the voice control to the one you want, and press the Preset switch. If you want to switch to another preset voice once in this mode, simply adjust the voice name and it's preset will automatically load up.
If you'd like to go back to Live mode, just press and release the Preset switch once more and the LED will change back to green.
Expression Pedal Connectivity
Each of the voices on the EHX Bass Mono Synth has parameters than can be controlled via external expression pedal. Control everything from filter resonance, pitch modulation depth, cutoff frequencies, and even envelope sweep depth, depending on which voice you have selected.
Try Before You Buy!
Keep your eyes peeled for the Electro Harmonix Bass Mono Synth landing at a Professional Music Technology store near you soon, and be sure to request an in-store demonstration - you won't regret it!
Electro Harmonix Bass Mono Synth Technical Specs
Bypass Type: Buffered
Current Draw: 125mA @ 9VDC
Dimensions in inches: 4.0(w) x 4.75(l) x 2.25(h)
Dimensions in mm: 102(w) x 121(l) x 58(h)
Specification
| | |
| --- | --- |
| SKU | 301917 |
| Weight (kg) | 1.0000 |
| Effects | bass synth |
| Power Supply | 9v dc power adapter |
| MPN | BASS MONO SYNTH |
| Warranty | 2 years |
Video Gallery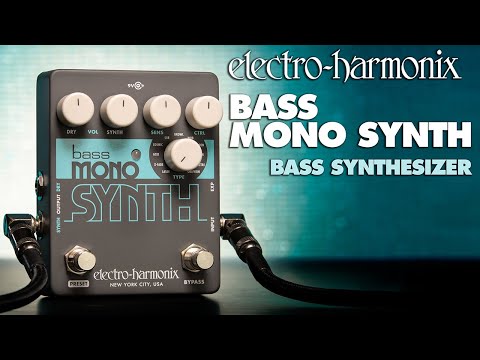 No music has been added for this product yet.
Frequently Bought Together
Price Match
We constantly monitor our competitors' prices to ensure that we're the best. However if you do find it cheaper, you can request an instant price match during opening hours by completing the form below.
*Please note that Terms & Conditions apply to Price Match - Must be a UK-based seller with the item In Stock, and is not available in conjunction with Finance or other Offers*