Overview
The Alto Radius 100H is a professional wireless system designed for any situation requiring vocal performance or headset microphone.
All-In-One Wireless Headset System
Delivering consistent and high quality performance – the Radius 100H is the perfect wireless lapel microphone system for when you demand reliability.
Extremely Reliable Switching Diversity Design
To ensure consistent performance that you can rely on, the Alto Professional Radius 100H makes use of a switching diversity receiver design which uses two separate antenna systems.
While using the Radius 100H, if one antenna detects signal interruption or interference the receiver immediately switches to the second antenna so you get a seamless, uninterrupted signal.
With virtually no chance of dropout or interruption, the Radius 100H delivers extremely stable and reliable wireless signal so you can perform on any stage in confidence and focus fully on your performance and presentation; the way it should be.
Perfect for Vocals in Music and Live Theatre Applications
A great wireless headset microphone system in this price range, the Alto Professional Radius 100H system is perfectly suited to lively performance be it in live theatre or musical applications. It's also a great microphone for aerobics instructors, martial arts instructors and energetic motivational speakers.
Using the Radius 100H wireless headset mic system your performance is unencumbered by bothersome cables which may otherwise detract from your ability to perform, allowing you to be as energetic and expressive as your creativity requires.
Just connect the wireless headset microphone to the Belt-Pack Transmitter and you can enjoy full freedom while performing.
Using a wireless microphone system allows you to have a lot more options for your stage and performance which are usually dictated by the logistics of cabling and other physical limitations.
Everything You Need for Wireless Audio Capture
When you purchase the Alto Pro Radius 100H it comes with everything you need to start capturing audio wirelessly, straight out of the box.
You get the Radius 100 receiver, the Radius HSM Headset Microphone transmitter, the Radius BPT wireless Belt-Pack Transmitter, a 3 feet (1 metre) cable, a power adapter and 2 AA batteries. It even comes with all the parts you'd need for easily rackmounting the receiver.
The Radius 100H is also very easy to set up and start using. Just set up the receiver then power up your Belt-Pack Transmitter and sync the two – sorted!
Professional UHF Diversity Instrument Wireless System
With its dual antenna, switching diversity receiver configuration and rackmount ready design, the Radius 100H a great, professional wireless instrument system that is perfect for the serious performer.
Easy to set up and delivering consistent, reliable performance – the Radius 100H wireless system allows you to focus solely on your performance and allows you and your audience to enjoy uninterrupted, great quality audio transmitting.
Alto Professional Radius 100H Wireless Instrument System Key Features:
All-In-One, Easy-To-Use System
Dual-Antenna UHF Diversity Receiver for Increased Reliability and Signal Consistency
UHF Band Operation (520 – 937.5MHz) Regionally Selected
Receiver has High-Visibility Back-Lit Display
Wireless Belt-Pack Transmitter and 1/4-Inch Instrument Cable
Single-Button Scan Feature Quickly Identifies Optimal Operating Frequency
Sync Function Automatically Synchronises Transmitter and Receiver
Squelch Control for Maximum Clarity and Dynamic Range
Front-Panel Rotary Volume Control
Balanced XLR and Unbalanced 1/4-inch Mic or Line-Level Outputs
Alto Professional Radius 100H Wireless Instrument System Includes:
Radius 100 Receiver
Radius BPT Wireless Belt-Pack Transmitter
Rackmount and Coupling Brackets (Screws Included)
Radius HSM Headset Microphone Transmitter
1/4" (6.35mm) Unbalanced Audio Cable (3 Feet/1 Metre)
Power Adapter
2 x AA Batteries
User Guide
Safety & Warranty Manual
Radius 100 Receiver Specs:
UHF Band Operation: 520–937.5 MHz (region-specific)
Oscillator: PLL Synthesized
Frequency Stability: ±0.005%
Modulation: FM
Transmission Range: 328 feet / 100 meters
Signal-to-Noise Ratio: > 100 dB (at 20 KHz deviation and 60 dBV antenna input
Image & Spurious Rejection: 80 dB minimum
Receiving Sensitivity: At 3 uV over 52 dB/A SNR
Selectivity: > 50 dB
AF Response: 80 Hz – 18 KHz
THD: < 1% (at 1 KHz)
IF Frequency 1st: 243.95 MHz / 2nd: 10.7 MHz
Dynamic Range: > 100 dB
Tone Signal: 32.768 KHz
Audio Output: 1 balanced XLR, 1 unbalanced 1/4" (6.35mm)
Display: High-visibility back-lit LCD with RF and AF meters
Power Supply: 12 V, 1 A, center positive (adapter included)
Consumption: 150 mA ±10 mA
Case: Half 19" EIA-rack plastic case
Dimensions (width x depth x height) 7.9" x 4.8" x 1.7"/20.0 cm x 12.2 cm x 4.2 cm
Weight 2.1 lbs. / 1.0 kg
Transmitter Specs:
UHF Band Operation: 520–937.5 MHz (region-specific)
Channel Selection: Synchronization with receiver
RF Power Output: 10 mW (maximum)
Oscillator: PLL Synthesized
Frequency Stability: ±0.005%
Deviation: ±20 KHz with limiting compressor
Spurious Emission: > 60 dB below carrier frequency
THD: < 1% (at 1 KHz)
Tone Signal: 32.768 KHz
Display: 2-digit 7-segment LCD
Power: Belt-Pack Transmitter: 3 VDC (1.5V via 2 AA batteries), Consumption: 120 mA ±10 mA
Dimensions: Belt-Pack Transmitter: 2.6" x 3.8" x 0.9" / 6.5 cm x 9.7 cm x 2.4 cm, Headset Microphone 1.5" x 0.5" x 0.5" / 3.8cm x 1.3cm x 1.3cm
Weight: Belt-Pack Transmitter: 0.2 lbs. / 0.1 kg, Headset Microphone: 0.2 lbs. / 0.1 kg
Specification
| | |
| --- | --- |
| SKU | 148776 |
| Weight | 1.1000 |
| MPN | RADIUS 100H |
Video Gallery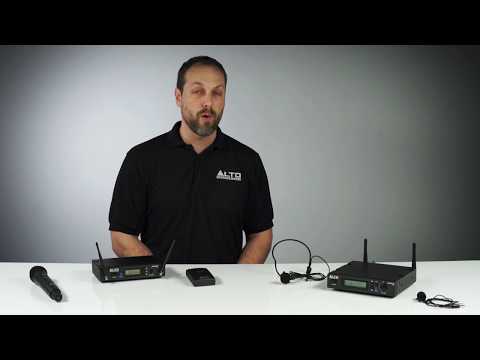 No music has been added for this product yet.
No posts have been written for this product yet.
Price Match
We constantly monitor our competitors' prices to ensure that we're the best. However if you do find it cheaper, you can request an instant price match during opening hours by completing the form below.
*Please note that Terms & Conditions apply to Price Match - Must be a UK-based seller with the item In Stock, and is not available in conjunction with Finance or other Offers*