FREE Epiphone Guitar Books During June
Posted on 15th June 2016 by
Admin
Win an Epiphone Guitar Book when you buy select Epiphone guitars in June. This is a great freebie, so don't miss out on this promo!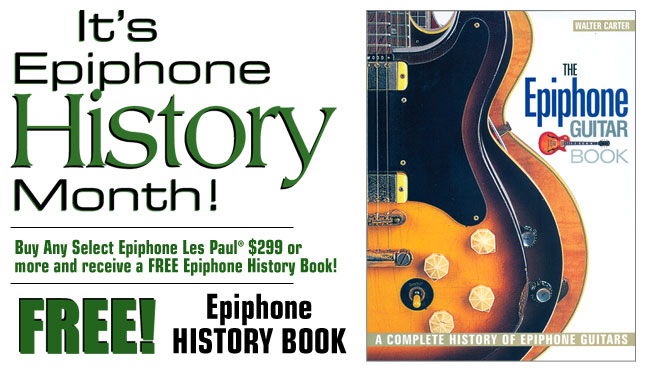 This is a pretty cool competition, so make sure not to miss it! After all, who doesn't like a freebie?
Throughout June 2016, Epiphone is celebrating the 101st birthday of mentor Les Paul! Buy any Epiphone Les Paul for $299 (£210) or more during the month of June and receive a free copy of "The Epiphone Guitar Book, A Complete History of Epiphone Guitars" by renowned guitar historian Walter Carter.
How cool is that? You can buy an Epiphone AND learn more about the brand and its history, with this fantastic book packed with interesting info and great pics.
For over 50 years, Les Paul was a close friend of the Epiphone family and even invented his first solid body guitar, "The Log", at their factory in Manhattan. Throughout his life, Les continued to work closely with the company's luthiers reviewing new product ideas.
"They are damn fine instruments, I swear by them!" said Les. "A kid can get an Epiphone, learn well on one and have it and play it the rest of his life."
And today, Les still inspires every Les Paul guitar made by the brand.
How does the promo work?
Register your new guitar
Print last page of registration form
Mail the printed page along with your original sales receipt within 15 days of purchase to: Epiphone - Free Epiphone History Book Offer, Attn: Gibson Europe BV Customer Service, Kamerlingh Onnesweg 2, Vianen, 4131 PK Netherlands
Please keep a copy of your sales receipt for your records. This offer is valid only on purchases of new qualifying Epiphone guitars. You must be 18 years or older. By returning this form you certify that you are 18 years or older. *If you are under 18 years old, you may have a parent complete and return this form. For full T&C, click here.
Register your new Epiphone Les Paul and receive a FREE copy of The Epiphone Guitar Book, A Complete History of Epiphone Guitars ($24.99 Value) throughout June 2016. To claim your FREE book, fill your details on the website.